The first week… always the hardest. You're trying to rearrange your schedule to fit in a workout, redo your meal plans to include healthy and nutritious choices and convince yourself that you really do want to hit that play button each day… This first week was also made that much more difficult for me personally because my nephew was staying with us for the duration of his spring break and my usual schedule with my children was completely thrown out of whack. Add to that the fact that the only TV in the house (and consequently the one I need to use for my workouts) was constantly claimed for ps3 games with the occasional Netflix break. So, now that I've gotten my excuses out of the way, let's get down to the actual workout program. This week I was trying one of Beachbody's newest hits – from the amazing Shaun T – Focus T25!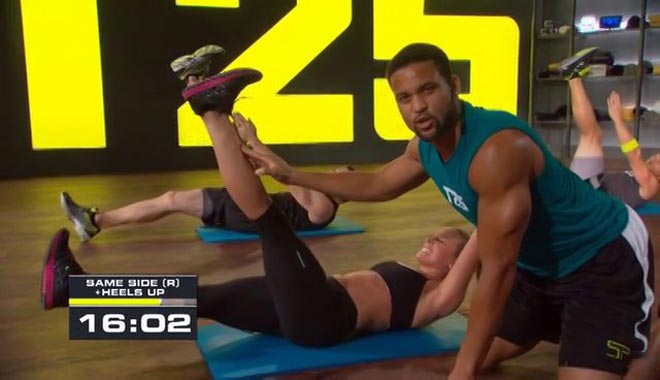 Focus T25 is a workout regimen designed specifically for those of us with less than optimal schedules and little to no time for exercise (as we often claim). The program is split into two phases: alpha and beta. Alpha phase is the starting point and the workouts in this phase are geared towards building good form and a solid foundation to set you up for the beta phase. The program also comes with a calendar for both phases, each lasting 5 weeks. The workouts are scheduled for Monday through Friday (with Friday being an optional double-day). Since I only get one week for each workout program I can only tell you about the Alpha phase. The first week of Alpha phase is as follows:
Monday – Cardio
Tuesday – Speed 1.0
Wednesday – Total Body Circuit
Thursday – Ab Intervals
Friday – Lower Focus (optional Cardio as a double)
Saturday – rest
Sunday – Stretch 
Although alpha phase is the starting point, these workouts are not classified as easy in my book. In order to fit these intense workouts into only 25 minutes there are no breaks and no introduction to any of the movements. Basically you get to learn everything as you go and it might take a few times before you actually have the moves down to a point where you can finally start to push yourself and get the full benefit of each segment. There is also a modifier, doing each move with decreased impact while still keeping a solid tempo, for beginners and anyone concerned with the possibility of injury. One of the best aspects of this program is that very little equipment is needed, a yoga mat and light weight dumbbells or resistant band (included with the set) is pretty much all you'll need. Most of the workouts, especially in the alpha phase, use your own body weight to provide the resistance. One of the biggest challenges with this program is the fact that you have to be motivated and willing to push yourself (I was burning over 500 calories on that first Cardio workout). Because if you come at these workouts with an attitude of minimalism and only give half effort for those 25 minutes you will not see the results you're hoping to achieve.
So, to reiterate, the good points of Focus T25 include:
Short, high impact workouts
little equipment needed
modifier for beginners or those with increased risk of injury
And the not-so-great points include:
No breaks
Little to no introduction into the movements of each segment (learn as you go style)
Need to be self-motivated and willing to push yourself the ENTIRE 25 minutes